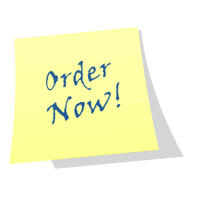 Cool Android Phone watch in the latest US Army Combat Uniform Pattern! With Android 2.2 OS, 2.0 Inch Capacitive Touchscreen, and a 2MP Camera, the Andronia Smartphone Watch will totally Andronia on your wrist.
Combining a mini 2.0 inch Smartphone with a chic watch, the Andronia lets you make phone calls, surf the internet, watch videos, receive and send messages, and all at the same time, look awesome. With the Android operating system, you can even download as many apps and games as you want for either work or play. Also included it's a 2MP camera for shooting photos, and a Bluetooth ear set for you to make phone calls easily.
Even as a watch, the Andronia is a sexy and fashionable piece. Solid build quality, beautiful army combat style looks and fully functional electronics make for an unbeatable combination of quality, style and convenience that is sure to set the standard for high quality watch phones. It's one accessory that you should not miss out on.
The first true Android Phone Watch - Andronia is now fully in stock for immediate shipment.
At a Glance...
First Android Smatphone Watch on the market
Android 2.2 OS
Cool Army Combat Camouflage pattern
2MP camera
8GB FREE TF card
Also please check out the other amazing gadgets I have for sale: India.Gadgets

Features / Specifications
Operating System: Android 2.2
Color: ACU Universal Camouflage Pattern
Network: GSM frequencies 850MHz, 900MHz, 1800MHz, 1900MHz
Hardware Chipset: MTK6516
CPU Speed: 426MHz
Screen: Capacitive
Screen Size: 2.0 inches
Screen Resolution: 320 * 240
Ports/slot/external sensors


- 1 SIM card slots


- Micro SD card slot


- Microphone


- Speaker


- Camera
Storage:


- Internal Memory: 300 MB


- External Memory: Micro SD card up to 8GB (included)
Power:


- Standby-time: 36hrs


- Talk-time: 4hrs


- Battery capacity mAh: 800
Camera resolution: 2.0MP
Media Formats (More available through third-party applications, such as RockPlayer):


- Picture format: JPEG, GIF, BMP, PNG


- Video format: MP4, 3GP


- Music Formats: MP3, WAV, WMA
Other features:


- WiFi: Yes (b/g)


- Bluetooth: Yes
Languages: English, Spanish, Indonesian, Malaysian, German, French, Portuguese, Italian, Vietnamese, Turkish, Russian, Thai, Chinese
Dimensions (mm): H: 58, W: 45, D: 13 (Watch)
Certification: CE, FCC, RoHS
Product Notes
Note: This Android cellphone is designed only to work with the current Android OS installed in it. Any alterations such as upgrades or flashing the cellphone and installing a newer version will void the cellphone's warranty.
To charge the phone watch, connect the end of the strap with the USB extension cable, then use the USB charging adapter.
Package Contents
Android Smartphone Watch
1x rechargeable battery
USB charging cable
Charging adapter
English Manual
Earphones
Bluetooth clip
USB extension cable
TF Card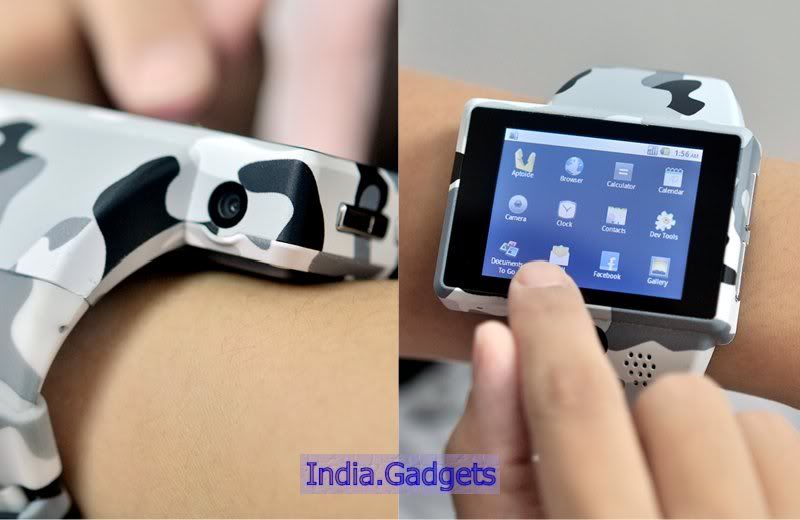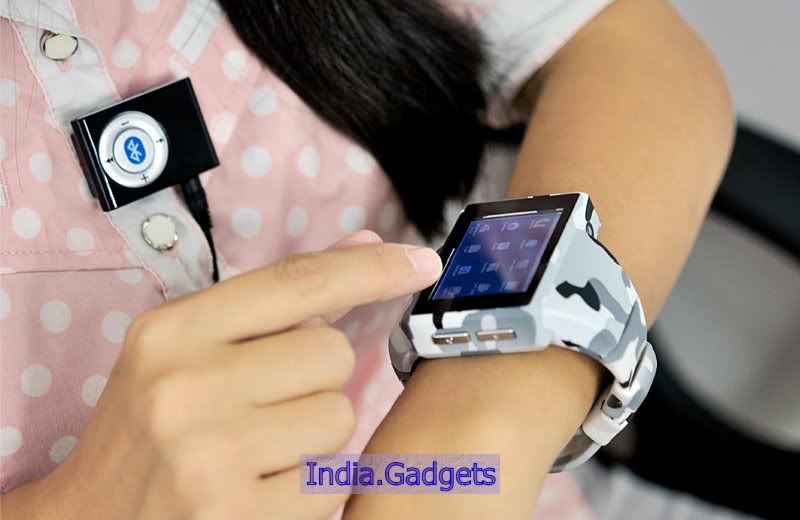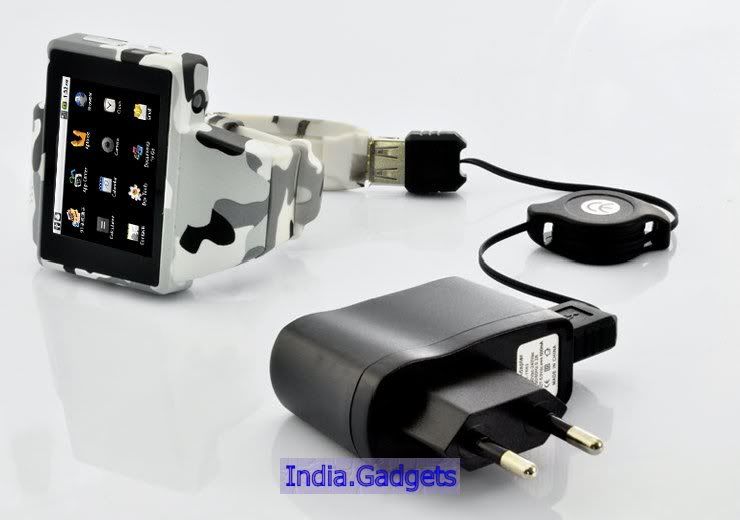 Summary of My Selling Policies

Why Buy From Us

We are reputed traders doing business since the last 7 years.

High Quality and Unique products sourced from all over the world at great prices.

Products covered under manufacturer's repair / replacement warranty, so your purchase is risk and worry free.

Shipping

Orders from remote locations may be canceled if major couriers do not have service in your area.

We ship internationally as well, please do contact me for a shipping quote.

Delivery

You may expect to receive your item in about 3 to 7 days time.

Warranty

Most of the products are covered under manufacturer's repair / replacement warranty. Duration may vary between 6 months to 1 year depending on the product.

Warranty for the item(s) is as per the manufacturer's terms & Conditions.

Warranties beyond the specified period will be available if provided by the manufacturer. Exceptions if any would be stated in the listing.

Cables & Adapters and other Accessories are not covered under warranty.

No Warranty for physically damaged or Burnt & Damaged items.

Item(s) carrying a dealer warranty would be taken care by us.

Return Policy

All items must be returned in unused or unopened condition within 7 days of purchase to be eligible for refund.

In case item arrives in damaged condition or is faulty please immediately contact me so I can send across a replacement for the same.

Return shipping charges will be paid for by the buyer and is not refundable.

Feedback Policy

We're committed to providing 100% customer satisfaction.

Please do leave a Positive Feedback (5 Stars) and kindly contact us if you have any questions or any complaints.

Contact Me

If you have any doubts or queries please do not hesitate to contact me prior to purchase.
The best way to contact me is through the ebay messaging system - 'Ask a question' link located at the top of this page.

My average respond time to an email is within 24 hours or less.

Please read these terms thoroughly before placing your order.

`Buy With Confidence
Happy Shopping
Although it is extremely rare, sometimes unforeseen and uncontrollable circumstances may cause our inventory to fluctuate. What does this mean ? Well, if u order an item and it is not in stock or has been replaced by a newer model we will immediately contact you. We will either provide you a full refund or advice you of other possible options.