XTREME MUSCLE
RIVENDITORE AUTORIZZATO
IL PIU' VASTO ASSORTIMENTO DI INTEGRATORI (E NON SOLO....)MADE IN U.S.A. ORIGINALI 100%!!!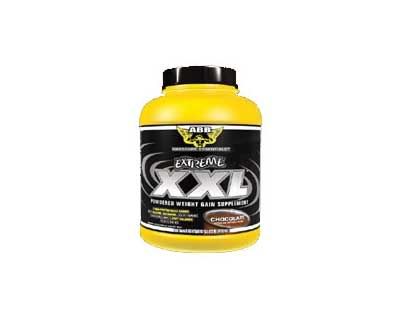 ABB AMERICAN BODYBUILDING : GAINER PER AUMENTO MASSA

EXTREME XXL POWER 6.07 LB (2756 GR)

Nuovissimo Gainer ABB ricchissimo di nutrienti ideali per l'aumento di massa magra. Ingredienti: Maltodestrine, sieroproteine concentrate, calcio caseinato, albume d'uovo, siero del latte, aromi, vitamine e minerali, trigliceridi a catena media, creatina, glutammina, glutammina peptidica. Modo d'uso: Miscelare 2 o 3 misurini in 250-400ml di acqua o latte scremato, assumere tra i pasti o preferibilmente dopo l'allenamento. Assumere una volta al giorno. Confezione da 2,8Kg.

Ingredienti : Informazioni Nutrizionali per 2 misurini (138gr): Valore energetico 520Kcal Proteine 21gr Carboidrati 104gr Grassi 2gr Colesterolo 25mg miscela vitaminica minerale Creatina monoidrata 412,5mg L-glutammina 205mg Glutammina peptidica 205mg Colina 105mg Inositolo 105mg

Uso : Assumere 50 grammi due volte al giorno, con abbondante acqua o latte.

NEI GUSTI:

CIOCCOLATO

VANIGLIA

PRIMA DI PROCEDERE ALL'ACQUISTO CONTATTACI PER DISPONIBILITA PRODOTTO E GUSTO

27-0074
ABB
Extreme XXL Powder, Massive Chocolate
6.07 lb.

Nutrition Facts
Serving Size: 4 Scoops (276g)
Servings Per Container: 10
Amount
Per Serving
% Daily
Value*
Total Calories
1040
Calories From Fat
35
Total Fat
4
g
6%
Saturated Fat
1.5
g
8%
Cholesterol
50
mg
17%
Sodium
350
mg
15%
Potassium
1240
mg
35%
Total Carbohydrates
208
g
69%
Dietary Fiber
3
g
12%
Sugars
17
g

Net Carbs

Minus Fiber

205

g

Protein
42
g
84%
Vitamin A
4130
I.U.
83%
Vitamin C
50
mg
83%
Calcium
590
mg
59%
Iron
4
mg
22%
Vitamin D
180
I.U.
45%
Vitamin E
25
I.U.
83%
Thiamin (B1)
4
mg
26%
Riboflavin (B2)
3.5
mg
206%
Niacin (B3)
41
mg
205%
Pyridoxine (B6)
4.1
mg
205%
Folic Acid
330
mcg
83%
Cyanocobalamin (B12)
8.3
mcg
138%
Biotin
248
mcg
83%
Pantothenic Acid
21
mg
210%
Phosphorus
430
mg
43%
Iodine
160
mcg
107%
Magnesium
180
mg
45%
Zinc
13
mg
87%
Selenium
58
mcg
83%
Copper
0.9
mcg
45%
Manganese
1.65
mg
83%
Chromium
100
mcg
83%
Molybdenum
62
mcg
83%
Creatine Monohydrate
825
mg
L-Glutamine
410
mg
Glutamine Peptides
410
mg
Choline (as choline bitartrate)
210
mg
Inositol
210
mg
PABA (para-aminobenzoic acid)
4
mg
*Percent Daily Values are based on a 2,000 calorie diet.
Other Ingredients: Maltodextrin, protein blend (whey protein concentrate, calcium caseinate, egg albumin, sweet dairy whey), cocoa, natural and artificial flavors, vitamin and mineral blend (dipotassium phosphate, magnesium aspartate, dicalcium phosphate, calcium citrate, ascorbic acid, niacinamide, zinc citrate, beta carotene, d-calcium pantothenate, d-alpha tocopheryl succinate, selenomethionine, copper gluconate, ferrous fumarate, manganese amino acid chelate, thiamin mononitrate, pyridoxine hydrochloride, riboflavin, chromium polynicotinate, folic acid, biotin, molybdenum amino acid chelate, cholecalciferol, potassium iodide, cyanocobalamin), hydrolyzed wheat protein, acesulfame potassium, medium chain triglycerides, .
Recommended Use: Mix four (4) rounded scoops of EXTREME XXL(tm) POWDER with 16oz of water, low fat milk or your favorite beverage in a blender for 30-60 seconds. consume between meals or immediately after training to boost your caloric intake.
X-TREME MUSCLE GARANTISCE LA QUALITA' DEI PROPRI PRODOTTI MADE IN U.S.A. L'ORIGINALITA' 100% ED IL RISPETTO DELLE NORME VIGENTI DI CONSERVAZIONE IN AMBIENTI IDONEI, A TEMPERATURE CHE NON NE ALTERANO I VALORI
EMETTIAMO REGOLARE SCONTRINO O FATTURA
RINGRAZIAMO LA NOSTRA CLIENTELA PER LA FIDUCIA DATA E RINNOVIAMO IL NOSTRO IMPEGNO PER GARANTIRVI SEMPRE PRODOTTI DI ALTISSIMA QUALITA' ED UN SERVIZIO EFFICIENTE
CONSEGNA CON CORRIERE IN 24/48 ORE!!!
(il venditore non è responsabile di eventuali ritardi di consegna o giacenze del corriere)
ACQUISTANDO PIU' PRODOTTI PAGHERAI UNA SOLA SPEDIZIONE!!