Genuine Sony NP-FR1 Rechargeable Lithium-Ion Battery.
Fully compatible with any Sony Digital Camera that uses an NP-FR1 battery including :
Sony CyberShot DSC-F88, DSC-P100, DSC-P120, DSC-P150, DSC-T30, DSC-V3, DSC-F88, DSC-P100, DSC-P120, DSC-P150,

DSC-V3, DSC-F88, ,DSC-P100, DSC-P100/LJ, DSC-P100/R, DSC-P100/S, DSC-P120, DSC-P150,

DSC-P150/LJ, DSC-P200B, DSC-P200R, DSC-T30, DSC-V3 and more models...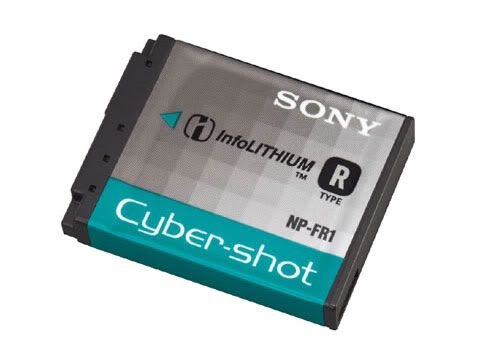 Free 5g Silica Gel Desiccant Moisture Absorb Bags Worth

Rs 100/-
Original Sony Products Have Holographic Sticker To Prove Genuinity.
One Year Free Replacement Gurantee*


MODEL : NP-FR1
Part No. : NP-FR1
Capacity : 970mAh
Volts : 3.6V
Dimensions : 34.5 x 7.1 x 40.0mm
nET wEIGHT : 20 GMS.
cHEMISTERY : li-ion
colour : GREY
* Subjected to Manufacturing Defects Only. All other issues related to misuse, mishandling or any other cause wont be entertained.




Product price is inclusive of 12.5% V.A.T.
Octroi or any other local govt. charges, if applicable, has to be borne by the buyer & paid directly to the courier delivery person.
If you have any query, do feel free to mail us at pacifichero@ymail.com
In case of returns due to any reason, the return courier charges has to be borne by the buyer.

Your feedback is very important for us to grow our business on eBay, so please do leave Positive feedback, with 5 star ratings.
Please contact us if you have any queries or any complaints before leaving Negative or Neutal Feedback, we will try to resolve it ASAP.
Leaving Negative or Neutral Feedback will not solve a problem.

Please check the content of the package before signing the courier receipt, else we are not responsible.
All our package are insured & once you sign the receipt, the insurance stands null & void.
Breakage or Content related issues have to notified to us immediately, but before signing the the courier receipt.
No claim will be entertained, Once the receipt is confirmed with a signature or stamp.