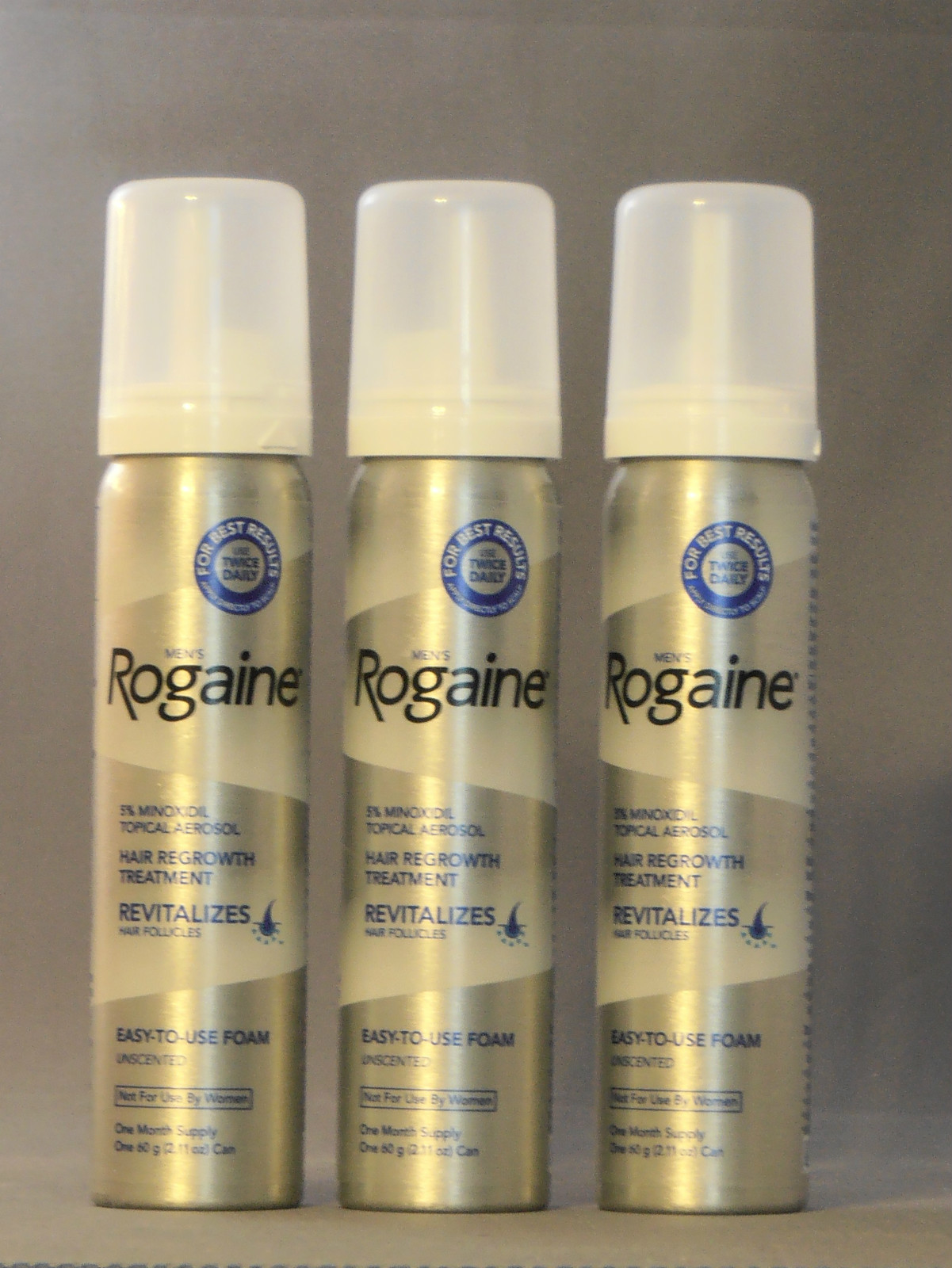 IMPORTANT NOTE: WE'RE INCREASING THE PRICE OF ROGAINE DUE TO VARIATION IN THE EXCHANGE RATE OF DOLLAR & WE STILL SERVE CUSTOMERS AT CHEAPEST PRICE ONLY - REPEATED CUSTOMERS EMAIL US TO AVAIL DISCOUNTS
BUY ROGAINE USING CASH ON DELIVERY - BUY NOW CLICK HERE
---------------------------------------------------------------------------------------------------------------
What is ROGAINE®?
ROGAINE® is the first FDA-approved topical treatment that is clinically proven to regrow hair. ROGAINE® helps to reverse the progression of hereditary hair loss.

IMPORTANT NOTE: NEW BOTTLES ARE SILVER IN COLOR CHECK WITH OFFICIAL SITE

PRODUCT IS GENUINE IMPORT FROM USA 3 MONTHS SUPPLY -- 3 BOTTLES

REPEATED CUSTOMERS GET DISCOUNTS ON PURCHASE

Don't WAIT Receive the Item Within 4 WORKING DAYS EXPRESS DELIVERY

CHEAPEST DEAL EVER ON eBay WE DEAL WITH 100% POSITIVE FEEDBACK OR DON'T BUY

CALL 09894377225 FOR SUPPORT(5PM-11PM)/SMS ANYTIME -U'RE PROTECTED

SEALED BOTTLES & SUBJECT TO BUBBLE PACKING
-------------------------------------------------------------------------------------------------------------------------------
IF YOU FIND INTENSE HAIR LOSS/ LOSING YOUR HAIR
WANNA REGROW YOUR LOST HAIR??
IF SERIOUS ABOUT GROWING BACK YOUR HAIR BEFORE YOU PROCEED ANY TREATMENT

Regrow your hair and reduce further hair loss with Men's ROGAINE® Unscented Foam - it's easy-to-use and effective. Apply twice daily, and experience clinical results in as little as 8 weeks, with results you can see in just 16 weeks.*
It Works: When used twice daily, Men's ROGAINE® Foam regrows hair in nearly 9 out of 10 men after 16 weeks.*
Doctor Recommended: #1 brand most recommended by dermatologists.
Quick & Easy: The foam is quick drying and easy to apply
USA FDA-Approved: The first foam FDA-approved to regrow hair.
Recommended in famous hair clinics in INDIA
No need to waste time for sittings in hair restoration clinics anymore
STILL NOT CONVINCED ??? REAL PEOPLE REVIEWS
EASY AND ATTRACTIVE

"All in all an easy to use product. Still waiting for results."
I use the Rogaine foam for only the 3rd week. It needs more time to now if it works for me.
First of all it's easy to use and after 3-4 days it will be part of your daily routine.
Until now only two of the listed side effects appeared:
1. My thin hairs started to dropped (although it's said that it is the sign that the product is working)
2. I felt sometimes a bit of dizziness.
That's all I can say.
SAVED TONS OF MY MONEY

"easy to use, overall a great product"
I previously use the Rogaine topic solution and it was messy, took 1-2 hours to dry after applying. The foam is much more convenient and mess free, it dries up within minutes of applying and doesn't make my hair looks and feels dry. This has got to be the most convenient hair loss product I've used so far. Just once in the morning before work, and I can even apply hair gel straight applying the foam, and one at night about 1 hour before bed, plenty of time for it to dry and not having to leave any residue stain on the pillow case.
EASY USE FOAM

I read a review on here that stated it smells so good and that they get compliments all the time on the smell... well, it's true. people at work and my wife love the smell. they ask me what i wear. it is also good for styling hair. as for hair re-growth, i got some, but not as much as i would have liked, but i also dont use it twice a day like they say to. and i still got some re-growth... not bad. it works for what i want it to do.
.
Highly Recommended

My doctor recommended to use this product and I love it, I had really good results, I have been using for over 3 year in a roll.
Comparing to other brand this smells good and can also be used to "fix" the hair.
I just don't like to price! LOL
I pretend buy it over and over again...
O highly recommend it, If I could post some photos you would get amazed
.
-----------------------------------------------------------------------------------------------------------------------------------------------------------------------------------------------
FINALLY HOW TO USE ROGAINE FOAM MEN?? DOES IT SUITE INDIAN CONDITION ?
GETTING STARTED
ROGAINE® BASICS
What is the shelf life of Men's ROGAINE®?

The shelf life of ROGAINE® Solution is 3 years. The shelf life of ROGAINE® Foam is 2 years.



Are there any medications that may interact when I'm using ROGAINE®?

To our knowledge, there are currently no known drug interactions associated with medications taken by mouth and the use of ROGAINE®. You should not use ROGAINE® if you are using other topical medicines on the scalp.



What are the most common side effects of ROGAINE®?

Some people may experience a dry, itchy scalp and irritation.



What's the difference between ROGAINE® Foam and ROGAINE® Solution?

Men's ROGAINE® Foam and Men's ROGAINE® Extra Strength Topical Solution both contain 5% minoxidil—the only FDA-approved topical ingredient that is clinically proven to regrow hair. However, Men's ROGAINE® Foam is the only FDA-approved hair regrowth foam. Because it's a foam, not a solution, it is applied differently. The foam is gently massaged into the scalp in contrast to ROGAINE® Extra Strength Topical Solution—where an applicator (dropper) is used to apply the solution onto the hair loss area.


How does ROGAINE® work?

In hereditary hair loss, a combination of heredity, hormones, and age causes a progressive shrinking, or miniaturization, of certain scalp follicles. This causes a shortening of the hair's growing cycle. Over time, as the active growth phase becomes shorter, the resting phase becomes longer. Eventually, there may be no growth at all. The exact mechanism of action of ROGAINE® is uncertain. However, researchers believe that ROGAINE® works in part by partially enlarging the hair follicles and reversing the miniaturization process. By enlarging miniaturized follicles, the growth phase of the hair cycle is prolonged, allowing the hair to become longer and thicker looking. And with more follicles in the growth phase at the same time, it is possible to see improved coverage of the scalp.

CALL 09894377225 FOR SUPPORT

*In a 4-month clinical study (n=352) of twice daily use of Men's ROGAINE® Foam vs. Placebo, 85% of men regrew hair.