Feedback

Feedback & DSRs (Detailed Seller Ratings).
We Strive for 100% Customer Satisfaction and we love to leave positive feedbacks to our buyers.
Therefore, our feedback and DSRs are extremely important to us as better DSR scores affect our search placement on eBay.
We want to earn your good feedback and 5 star DSR rating. Unfortunately, 4 stars is considered a bad rating for sellers and can result in restrictions on our account.
Please help us maintain our business.
If we have not given you reason enough for 5-star grades on each DSR then please let us know how we can earn your 5-star rating before submitting your scores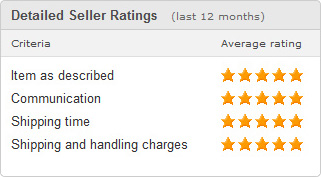 "DISCLAIMER : The Seller DSR rating shown above is for representation purpose only,
Pls check my feedback profile to know my current DSR ratings "