The MP870 digital music player comes with a colorful 2.4" high-definition TFT screen and offers over 22 hours of music playback on a single battery charge*. It has abundant built-in memory up to 8GB and a microSD/microSDHC expansion slot, allowing you to store and share more of your video, audio or picture collections—with unparalleled level of audio and visual quality!
Aside from RM/RMVB that other brands rarely support, the MP870 is compatible with a variety of popular file formats such as MPEG4 SP (Xvid), FLV, MP3, WMA, WAV, OGG, FLAC (Free Lossless Audio Codec) and WMA-DRM10 protected music files, offering unlimited portable entertainment that you have never experienced before
- 2.4" QVGA (240 x 320 pixel) full-color TFT display
- microSD/microSDHC expansion slot
- Supports MP3, WMA, WMA-DRM10 (subscription music), OGG, FLAC and WAV music files
- Supports MPEG4 SP(Xvid), RM/RMVB and FLV files
- Supports picture (JPEG/BMP/GIF/PNG) and e-book (.txt) files
- Recordable FM Radio with 20 station presets
- Built-in speaker and microphone
- Supports direct Line-In recording
- Karaoke-style synchronized lyrics display
- A-B repeat function allows continuous replay of a designated section of a track
- Variable Track Playback speeds
- Supports 13 user languages including song/artist name display
- 11 equalizer effects, including a customizable USER EQ setting and SRS WOW HD
- Power-saving screen savers and auto-shutoff function
- Provides over 22 hours of continuous music playback*
- USB Flash Drive capabilities for data transfer and storage
- Two year limited warranty (Li-polymer battery: six months)*


Specification
Capacity and Color:
4GB(Black)
8GB(Whilte)


Dimensions::
94 x 50 x 12mm


Weight::
62g


Display Type and Size::
2.4" TFT LCD


Display Resolution::
240x320


Music Formats::
MP3, WMA, WMA-DRM10, WAV, OGG and FLAC


Video Formats::
MPEG4 SP(Xvid), RM/RMVB and FLV


Photo Formats::
JPEG, BMP, GIF and PNG


E-Book Format::
TXT


Recording Format::
IMA-ADPCM (WAV)


Line-in Recording::
Yes


FM Function::
Worldwide - 87.5~108 MHz
Japan - 76~90 MHz


Battery Life*::
22hr


Battery Type::
Li-Polymer


Certificates::
CE, FCC, BSMI


Compression Rates::
8Kbps to 320Kbps
Payment will be accepted through Paisa Pay as this is the most safe and secure mode of payment on ebay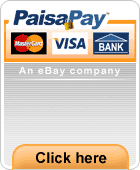 Term & Condition
OCTROI & local taxes extra / clearance charges extra. Those charges if any paid by the buyer.
All warranties are provided by manufacturer / distributor / dealer (Principal Company).
Standard terms & conditions by manufacturer / distributor / dealer for warranty are strictly applicable.
Burnt, damaged items never carry any warranty.
Buyers from West Bengal or UP OR north eastern states should send the required documentation if such states have any issues related to state taxes, or related to sales tax. Documentation is compulsory ie. way bill.
Please avoid buying from us if the same cannot be provided. Its not the responsibility of the seller to notify related to any such documentation before making purchase.
Its buyer's responsibility to check his/her state laws & rules related to taxes & documentation if any.
buyers are requested to clarify all doubts before purchasing the item.
If product received is defective, please return it within 3-7 days of receipt.
The product will be Shipped within 4-5 days once the payment is been made in Paisa Pay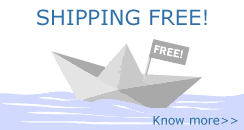 Our goal is to provide best quality goods at best possible prices.
For us Our Customers & Service to our valued Customers comes first.
You can contact us by clicking on 'ask seller a question'
Or

Email us at gautami2@vsnl.net
Or

Call us on 022-40022980 +91-9867740863

All queries are replied promptly.
There might be cases due to high velocity of transactions that it might sometimes take more than 24 hours to respond back
Feedback
Feedback & DSRs (Detailed Seller Ratings).
We Strive for 100% Customer Satisfaction and we love to leave positive feedbacks to our buyers.
Therefore, our feedback and DSRs are extremely important to us as better DSR scores affect our search placement on eBay.
We want to earn your good feedback and 5 star DSR rating. Unfortunately, 4 stars is considered a bad rating for sellers and can result in restrictions on our account.
Please help us maintain our business.
If we have not given you reason enough for 5-star grades on each DSR then please let us know how we can earn your 5-star rating before submitting your scores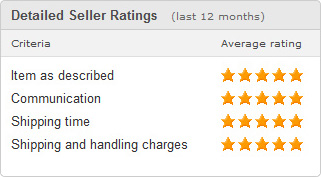 "DISCLAIMER : The Seller DSR rating shown above is for representation purpose only,
Pls check my feedback profile to know my current DSR ratings "

Please help Us maintain a 5-Star rating by rating us with a 5-Star rating in all 4 categories.
If you still think that you still cant leave a 5-Star across the Board, please email us or call us and we assure you that your issue will be resolved immediately
!!! Thank You For Visiting !!!