If you intend to sell on one or more of eBay's international sites, you will need to accept, and we encourage you to carefully review, the User Agreement, policies, and other requirements of that site. You can continue to reach out to the relevant customer service teams on the respective eBay site of your listing or transaction, as may be applicable to the nature of your query.
eBay coupons/ gift vouchers are an optional payment method that you can choose when you're paying with PaisaPay. Gift vouchers will give you a discount on a part of your total order amount, so you need to pay for only the remaining amount using credit card or online bank transfer.
The gift voucher basically consists of an alphanumeric 10-digit code, such as A1B2C3D4E5. This code identifies the promotion for which the voucher was sent to you and the criteria for using the voucher.


You might receive a gift voucher as part of a special promotion on eBay. Please note that eBay will decide to send you a gift voucher, based on our own discretion. You cannot apply for or ask to receive the gift vouchers.

Gift vouchers offer the following types of discounts:
Flat rate discount: Will deduct a flat amount from your total order amount. For example, Rs. 1000 off on any purchases

Percentage discount: Will deduct a percentage from your total order amount. For example, 15% off on any purchases.
There are specific conditions for using an eBay gift voucher for a purchase:
You have to be registered on the eBay India site to be able to receive and use gift vouchers.
Each voucher is valid for only one single purchase.
Every coupon will have specific terms and conditions for usage.
Apart from these conditions, each voucher will have specific criteria that will determine its validity. Please check these criteria before deciding to use a gift voucher.
Also, each voucher is valid up to a certain period, so be sure to use it within this period or else the voucher may expire.


Using your eBay gift voucher
To redeem an eBay gift voucher, you need to enter the 10-digit voucher code on the Review Order page and then click on the Apply button.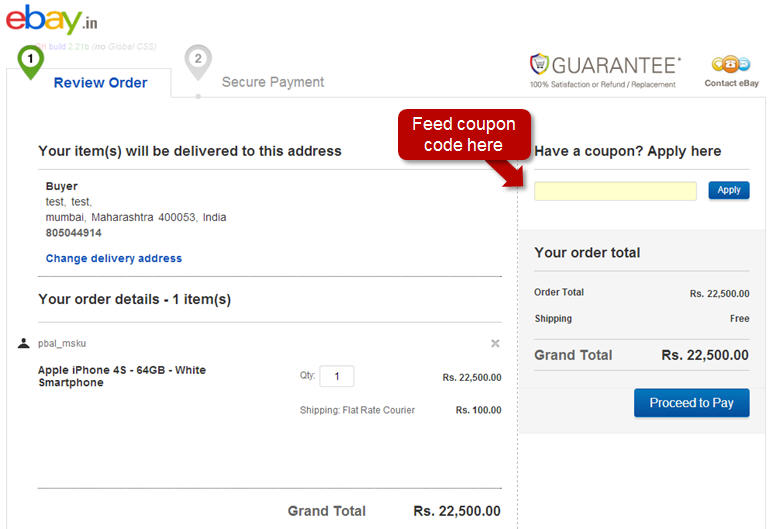 When you click on the Apply button, the order details are modified to reflect the new order amount. For example, if the gift voucher offered a 20% discount on the total order amount, you will see the discounted amount in green font (see below).
Complete your PaisaPay payment for the remaining amount using your credit card or online bank transfer and click the Pay button (see above).
If your eBay gift voucher covered the entire order amount, you will not need to pay anything in addition using PaisaPay. But remember to click the Pay button to complete your payment.