If you intend to sell on one or more of eBay's international sites, you will need to accept, and we encourage you to carefully review, the User Agreement, policies, and other requirements of that site. You can continue to reach out to the relevant customer service teams on the respective eBay site of your listing or transaction, as may be applicable to the nature of your query.
Policy
eBay policy prohibits members from sending spam, which is defined as an unsolicited, commercial email. Further definitions:
Unsolicited email must have been sent without the permission of the person who received it.

Commercial discusses the buying, selling or trading of any goods or services.
Message board posts or instant messaging services that are not commercial in nature are not considered spam.
Violations of this policy may result in a range of actions, including:
Listing or Want It Now post cancellation

Forfeit of eBay fees on cancelled listings

Limits placed on account privileges

Loss of PowerSeller status
Some examples of spam include:
Unsolicited email offers to potential buyers for items that are the same or similar to items a member is bidding on or has bid on in the past

Email sent to a member from a mailing list without the member's explicit permission

Direct or stand-alone invitations to join a mailing list

Email sent using the "Contact eBay Member" link on the eBay Web site to send unsolicited commercial offers
Additional Information
What to do:
Please report any unsolicited email policy violation. Disciplinary action may result in the indefinite suspension of a user's account, temporary suspension, or a formal warning. eBay will consider the circumstances of an alleged offence and the user's trading records before taking action.
Please include any information (email address or User ID of member, etc.) that would help us to review your situation. In order to investigate a spam report, we must have a copy of the email you received with the full header included. If you have any problems finding the header, please visit Spam Cop.
If you received a warning for violating our spam policy and you believe that it was in error, contact us
If you were suspended for violating our Spam policy and would like to contact us, please send us an email
Unwelcome Email (Non-commercial)
Notification Preferences
eBay does send emails to our members based upon your notification preferences. If you are receiving email from eBay that you would rather not receive, please review your preferences and make any desired changes. If, after you confirm that your preferences are updated (realizing that it can take a few weeks for the mailing lists to be updated), you still receive email from eBay that you would rather not have, please report the email to us and we will investigate the situation.
Threats of bodily harm
eBay policy prohibits sending user-to-user threats.
Email sent from a member attempting to impersonate eBay
Be cautious of emails that ask you to submit personal information such as your credit card number or your eBay password. Some members have reported attempts to gain access to their personal information through email solicitations that are made to appear as having come from eBay. These solicitations will often contain links to web pages that will request that you sign-in and submit information. At eBay, we identify these as 'spoofed' emails or Web sites. Remember, eBay employees will never ask you for your password, including through email.
If you receive or suspect you have received such an email, do not respond to it or click the links. Immediately send us a copy of this email.
To be sure that you are signing into a genuine eBay Web site, look at the Address/Location field of your browser. At an eBay Sign-In or log-in page, the Web address that appears in the Address/Location field of your browser will begin with "http://cgi.ebay.com/" or "http://cgi3.ebay.com/" (as shown in the pictures below).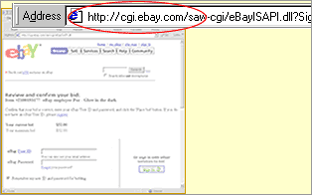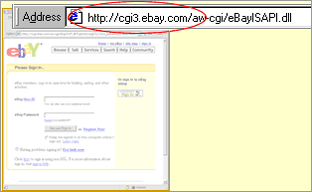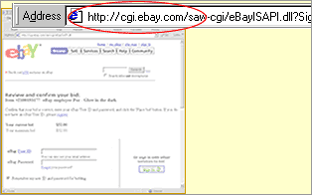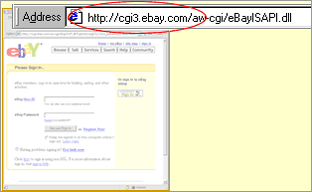 Why does eBay have this policy?
eBay understands that members are concerned about personal privacy. For this reason, eBay policy does not permit members to send spam.